Hello Teracube people. Chris here. Cannot open a download when someone texts me. What am I missing. Thanks
Do you get an error? What happens? Is it possible you don't have an application for the media type downloaded?
No error. When someone texts me and include a download, it asked me to tap. Bit nothing happens. I guess since the phone does not come with bloatware, I need to download something. Any suggestions?
You are not required to download another app since Teracube comes installed with Google Message which is the default SMS text app.
As for the download I have seen that happened before but only when I was roaming in a different country. Would you mind to try shutdown the phone and then restart it to see if the download works?
Also which carrier are you using?
I restarted and still nothing. I use Chatr from Toronto Canada
Is the download not working for text, attachment ,or everything?
Text. I am able to open attachments in email
Sorry, I wasn't clear in what I was asking. I meant to say attachment in text, as in pictures, videos, documents, etc.
Also, would you mind to checking your the settings in Messages (the 3 dots on the top right in the app, then select settings):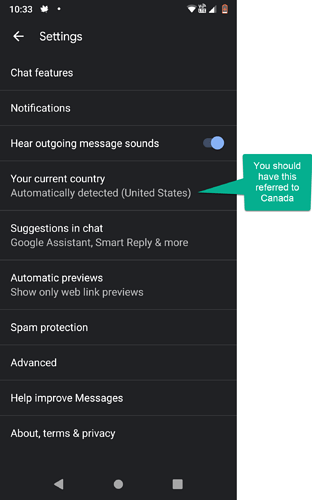 Sorry. Having trouble finding the page you want me to go to for messages settings
Ok. That was already done by default. Still can't open what people are sending me. Cannot open download
Also. Cannot send gif's to anyone but my wife, another Teracube user. Any other help would be nice. Anyone?
She is the same cell carrier as I am. Another person I know with a Teracube but another cell carrier does not receive these items.??
My suggestion is give your carrier support a call and see if it is something that they need to fix at their end.
Thanks for your time. I shall continue my research.
I'll continue the research on my end, and will report back if I find anything.
Thanks Anthony. The phones are great besides this minor detail.
Actually, would you mind to check your APN settings?
Here are the steps to get to the APN settings (screenshot taken from my Teracube so yours may look slightly different):

If there is no specific setting installed/configured for your carrier on your phone, please add a new entry as follow (you can see my APN settings are default to T-mobile):
It should be something as follow (obtained from talkr website):
Name: Chatr Mobile
APN: chatrweb.apn
Proxy: Not Set
Port: Not Set
Username: Not Set
Password: Not Set
Server: Not Set
MMS proxy: mmsproxy.chatrwireless.com
MMS port: 80
APN type: default,mms,supl
However, if the one above doesn't work, give this one a shot (obtained from another website):
Name : Chatr Mobile
APN : chatrweb.apn
Proxy : not set
Port : not set
Username : not set
Password : not set
Server : not set
MMSC : http://mms.chatrwireless.com
MMS Proxy : 205.151.11.11
MMS Port : 8080
MCC : 302
MNC : 720 or keep default
Authentication Type : not set
APN type : default,supl,mms
APN protocol: Ipv4
Enable/disable APN: APN Enabled
Bearer: Unspecified
MVNO type : not set
MVNO Value : not set
Thanks. Sorry for the tech support. Was not aware this tech stuff needed to be set up. My bad
Phone works now
As long as your phone is now working with text messaging, we are happy