This is how we got our H2Owireless SIM working. The configuration is not automatic - some manual work might be required. Here are the steps that worked for us:
Activate the SIM online on their website.
Insert the nano-SIM in the phone.
Initially calls and SMS might work - LTE data might not work.
If your connection or data is not working by now, then follow these steps:
Need to add their APN settings (one time configuration). Follow guide here - How and Why to Configure APNs
4.1 Goto Settings > Network & internet > Mobile network > Advanced > Access point names
4.2 Click on '+' to add a new APN
4.3 Enter these settings (they are case-sensitive):
  NAME: H2O Internet
  APN: PRODATA
  MMSC: http://mmsc.mobile.att.net

  MMS Proxy: http://proxy.mobile.att.net
  MMS Port: 80
  MCC: 310

  MNC: 410
  Authentication Type: None
  APN Type: default,mms,supl
  APN Protocol: IPv4

Now click on 3-dots in top-right and hit "Save"
Select H2O Internet (as shown in picture)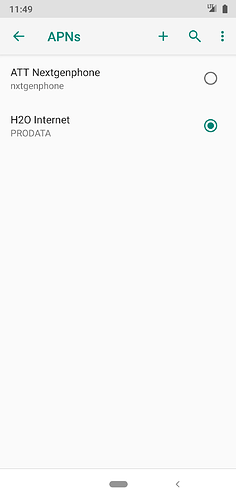 Test connection
Disable wifi to make sure LTE icon shows up. Calling, sms and internet should all work.
Let us know in comments if these steps work for you.