Can anyone tell me how to set up wifi calling?
Welcome!
Sorry for the trouble!
What carrier do you have, what plan, and finally, what OS version are you on?
T mobile magenta
e/os 1.5-2022 1028230215
Can you check if you have 1.6 available for Over The Air update yet?
/e/ have begun rolling it out today.
The phone is at 1.5 and there doesn't seem to be another update.
We also tested our samsung phone with T-Mobile and WiFi calling did work. So, T-Mobile is good.
Yeah, 1.6 has not been pushed to Emerald devices quite yet, but it is available in the pre-release channel. I just upgraded locally, but I need to SIM-swap to test Wi-Fi calling with my carrier (CricKet).
Is the Samsung device also running /e/OS as well?
For my device/SIM, all I had to do was pop it in and toggle the switches in Settings → Network & Internet → Mobile Network → Advanced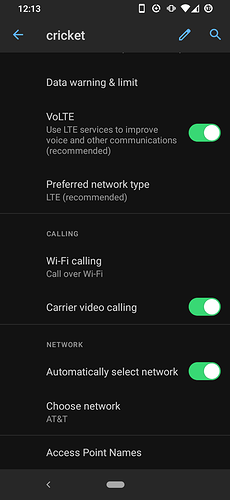 T-Mobile have their APN settings listed here, but you should not need to adjust these:
Cricket even sent confirmation texts after provisioning my phone saying that it met the requirements for wifi calling and to ensure it was fully updated.
Did you get any confirmation or configuration messages from Tmobile?
The samsung phones are not on e/os.
I'm not sure what you mean about sim swap
and how do I get confirmation from tmobile? would that be a text or email?
Since we were able to do it on our samsung phones which are not e/os, it would suggest that the problem is in the e/os or the terracube 2e phone
You'd take out the SIM card from the 2e,and put the SIM from the working Samsung.
Within about 10min of this, you should get text messages from T-mobile indicating that your device is setup and able to use the network on the 2e. Check the settings menu I showed above and you should see the wifi calling settings.
I'm not sure exactly what they will say, but I'm imagining it will be similar to wear cricket sends.
If it's all correct, just swap back.
Hi Linda, unfortunately Wifi calling still isn't working for the Teracube Emerald (2022) on /e/ OS yet.
It's been flagged as an issue and hopefully a solution will be implemented soon: