Has anyone found a third party screen protector that fits the 2e?
Some cellphone kiosks have a plotter cutter for making screen protectors.
The closest match is the Huawei Y6 or Y6P. As of Feb-2021, they are available on Amazon for $7-$9 for a twin-pack (tempered glass). Huawei Y6/Y6P size is the closest match to 2e (almost identical).

Update: Our official tempered glass screen protectors are also live. Check here.
---
We tested these Supershieldz screen protectors for Y6. They installed and look great so far. Just a tad bigger than the ones we have made - however they should work fine.
Go ahead and try them out. And do let everyone know here.
Is there any issue with a halo around the edges due to the fact that it's bigger than the stock screen protector? I ask because some of the other tempered glasses I've tried have that problem. Often when you get a halo, you can fix it with olive oil and a toothpick just to let you folks know.
Just got mines today and I'm having that issue now. It's very difficult to install. I had to remove and reinstall but because a speck of dust got under the screen protector I ended up throwing that away and started from scratch and the second one had the same issue. The halo effect. I would install it perfectly along the cutout and always one of the sides was unadhered to the screen. I will end up asking for my money back because I'm not satisfied.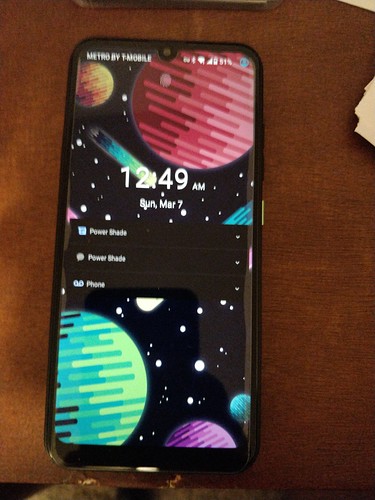 Before you give up on the that second screen protector, try this trick that has worked for me for a couple of years now. Almost every tempered glass I've installed has the halo issue. Get some olive oil and a toothpick. Apply the oil on an edge with the halo, squeeze it in and repeat until the halo is gone. Do all the affected sides and then clean with glasses cleaner. For stubborn halos, you might have to do it again. Has been working on all of my phones with no ill affects.
I got little bit of that halo (sides having a little air gap) on both screen protectors - Teracube brand and Supershieldz.
Is this with the Teracube 2e protective case on or without? I wonder if the case is putting a little pressure on the screen protector, and causing the halo effect. I've had this happen on other phones, so that's why I ask.
was this with the supershieldz ones or the teracube ones? usually when you have this effect either the protector is slightly to large for the screen or doesnt perfectly match the curve on the edges of the screen. my husband has installed literally thousands of glass ones at his shop and this is what he was explaining to me.
and to do it dust free use scotch tape. line up the protector and use 2-4 strips of tape on one end, lay it down on the screen now without moving it wrap those strips around the top (or bottom) and to the back of the phone so you have a "hinge" now. then clean with alcohol, and then an eyeglass cleaning cloth (clean one of course) he then uses some canned air also cleans again then blows off one last time then you can gently peel back the plastic on the back of the glass then since you have the tape you can gently and quickly just lay down the glass and let the bubbles work themselves out then press out the rest. very similar to the video but he said he finds most of those tabs they give you dont stick that well and he says never use those stickers to remove dust since they can sometimes leave stuff behind themselves. dust can never be guaranteed unless you are basically in a clean room but this way he very very very rarely ever gas to pull them back up.
It was the supershieldz. I didn't have that issue at all with the teracube one. Which leads me to the conclusion that the screen protector recommendation for the 2e is pretty off.
i tested the super shieldz recc ones today they dont fit great they were the same as the pic above they were lifted almost all the way around. i also then used one of the teracube 2e ones i got yesterday and they seem to fit fine. its like the super shieldz ones are a bit curved or something they dont want to sit flat againt the screen on the edges. maybe a bad batch or something not sure. the only thing i do wish is the teracube ones were a tad wider to cover closer to the edges but overall not to bad.
I tried the Supershieldz tempered glass for Huawei Y6s (2019) and they were quite a bad fit, with 3-4mm of non-sealing area around the edges.
The Supershieldz film type for Huawei Y6s (2019) work pretty well. they're 2-3mm too long but you can fudge it up and still have a 1mm clearance for the camera. At $1US per piece it's a good value as well.
(6 Pack) Supershieldz for Huawei Y6s (2019)
https://smile.amazon.com/gp/product/B085SZ13Z6
Teracube 2e official screen protector had the halo effect, I've been able to limit it to the right side, off screen, but it's still there. I'm a bit disappointed, but I can live with it. Not the best screen protector, but I've had worse.
This topic was automatically closed 30 days after the last reply. New replies are no longer allowed.
Hi all,
I bought tempered glass protectors offered for Huawei Y6s, but they don't fit. Too large, no chance to find a reasonable position. I measured 151 x 67.5 millimeters. Can anybody tell whether these are the normal dimensions for the Y6s, or did I get wrong parts?
By the way, how much trouble and discussions and failed attempts could have been avoided if the 2e had been equipped with gorilla-like glass or a properly factory-mounted tempered glass protector! That would be my most urgent desire for the next Teracube generation, even if it is a little bit more expensive.
A very robust bumper combined with very vulnerable plastic screen covering - imho that's a serious mismatch and doesn't really make sense…
Hi @mare - welcome to Teracube forums. Sorry about the Y6s screen protector. Which country are you based in? We might have the Teracube screen protectors in stock.
Yes - that is indeed what we wanted to go for as well. However there is a big pushback from assembly partners to install glass screen protectors. Their reasoning is it being more manual and time consuming on a production line.
We will keep trying though. We did improve the case quality going from T1 to T2e. Will continue work in this direction to make the phones more robust. One potential idea for example is to use plastic displays which are much more resilient to drops (coupled with a glass screen protector). Gives advantages of both glass and plastic while being much more resilient.
I'm in Germany. I have already seen them at amazon, but I would prefer another source if possible.
(BTW, I "was" Order #17648, my first phone was faulty, but your warranty replacement procedure was exemplary - very fast and uncomplicated. Thanks for that! The replacement phone I got works like a charm.)
Thanks for the feedback - I'll pass it to the team
.